Manga and CD's
---
Greetings!
Slowly, during my stays in Japan, I have acquired a new hobby. I have been getting good CD's and manga for low prices. The quest for each CD or manga is most enjoyable. I have discovered numerous discount stores and found groups and artists that I like.
This page lists, stores in Japan I use to buy stuff, my manga collection, my CD collection, and some random anime related stuff on the bottom.

The Stores
Comic Shock
Book M
Manga-Ya
<!A HREF = "http://www.stand-by.co.jp">Stand-by: Animania<!/A> on Teramachi!
Tsutaya
BOOK-OFF
Magical Brain
Any other used CD and Manga stores...
My Manga and prices
(C)Ranma 1/2 1-38(1-25 50 Yen each) (the rest varied 180Yen-450Yen)
Mezon Ikkoku 1-15(100 Yen each)
(C)Rumic World 1-3 (100 Yen each)
(C)One Pound Gospel/ichi pondo fukuinsho (100 Yen each)
Ranma Memory Album (1300 Yen) (C/2)(2 copies)
(C)Orange Road 1-18 (Variable 80-250 Yen) mostly 100 Yen each
Video Girl Ai 1-9, 11, 13-14(100 Yen or less)
(C)Saint Seiya 1-2(50 Yen each)
Tonari no Totoro 1-4 (100 Yen each)
Majo no Takkyubin 1-4 (100 Yen Each)
Kaze no Tani no Naussica 2-4 (100 Yen Each)
Tenkuu no shiro no Laputa 1-3 (100 Yen each)
Fushigi no Umi no Nadia 1-6 (100 Yen each) (S)(2 copies of 1,2,5,6)
(C)=Donated to Cornell Library for future researchers.
(S)=Sold, sometimes reluctantly.

---
Now my CD's listed by group

Note: singles designated by *.

CoCo My favorite group

Equal Romance*
Snow Garden
CoCo Ichiban
Straight
Strawberry (2 copies)
Sweet & Bitter
Rieko Miura: Belong To You (Well she used to be CoCo)
You're My Treasure*
Yokohama Boy Style*
Yume Dake Miteiru*
Muteki No Only You*
Dakara Namida To Yobanai De*
Natsuzora No Dreamer*
Anime

Ranma Kakutoo Karauta: Ranmatekikigaonban IV
Ranma 1/2 Kareki Heisei Sannendohan: Ranmatekikigaonban II (S)(2 copies)
Two more Ranma Theme songs (Under Fuji terebi)
Konya Wa Eiburiru Fooru (Saotome Ranma)*
Tonari No Totoro, Soundtrack Shu
Nausicaa: Best Collection
Please Save My Earth: Image Soundtrack
The Mobile Police Patlabor on Television (Original Soundtrack)
(S)The Hakkenden
That new police anime (under The Collectors)*
ZARD "Slam dunk theme"(under ZARD)*
A Dragon Ball Z, Character Special History Kyokushu IV
Fushigi No Umi No Nadia Karoke Collection
Fushigi No Umi No Nadia Vocal Collection
Kome Kome Club

K2C
Kimi ga iru dake de, Ai Shite iru* (2 copies)
The Collectors
ZARD

My Friend*
This is the Slam Dunk theme, its pretty cool.
Konna Ni Soba Ni Iru No Ni*
Yureru Omoi
ZYYG

Julia*
Kimigahoshikutetamaranai*
Judy and Mary
SMAP
ZOO

Choo Choo Train*
Ding Dong Express, La La wa ai no kotoba*
Sonic Powers
Chage and Aska

(S)TREE
(S/2)RED HILL(2 copies)
TimeSlip

Jyokyoushi, furuihon*
This is a very cool and very different CD.
Deen
Tokio
Nahki

Sukiyaki~ue o muitearukoo*
Puts a new twist on an old classic.
Namie Amuro
Bicycle

Warate goran*
A most comical CD in the spirit of Weird Al.
Fuji Terebi

Ru-ru, Fuji terebi to asobimasho
A truly great collection of TV show music from 1992.
Matsuda Hiroyuki
Matsutoya Yumi

Hello, My Friend. Good-bye My Friend*
A useful depressing song that reeks of the Kagero Nikki.
DAWN PURPLE (2 copies)
My Little Lover

Hello Again (mukashi kara aru basho)*
Mitsuki Arisa
MINK
m.c.A.T.
MANISH Yan Soo Kyung

Namida no niji wo watareba*
itsuka kitto hohoemi e*
Yoko Oginoue?
Rie Miyazawa
The Waves

We are the Champ*
Anyone who knows John Genrich, this is his kind of music.
WINK

Crecent
Especially For You, Yasashisa ni tsutsumarete
Midori Karashima, Reimy, Hirokazu Fujii, Kyoko Endo, Taizo Jinnouchi

Keep Christmas With You, Candle*
---
A few comments on Manga
Over the past year I have been doing most of my manga and anime studies on two manga. Dragon Ball and Ranma 1/2. I plan to one day write an interesting paper on Ranma. But as for Dragon Ball, I am learning more about the complex Dragon Ball universe every day.
As for Ranma, I have read all the manga, but have not seen all the TV and OVA's and have not listened to all the CDs yet.
And as for Dragon Ball, I have read the first few manga, but most of my information comes from the Cell Dragon Ball Z episodes and Bebe Dragon Ball GT episodes I saw and taped in Japan, and the few English dubbed episodes I've seen in the US. But I have seen other Dragon Ball movies and read some of the later manga as well. I liked this cool one when Gohan goes to school in Satan City for the first time.
Before that, my main interests were Nadia, Miyazaki, and Orange Road. I don't have time to make a cool manga research page yet, but anyone may e-mail me with questions on any of the above anime or manga.
---
Here is the pictures of my SON GOKU HALLOWEEN ACTION PHOTOS. They show me doing a special technique learned from that Green Pickle like guy Pikkoro.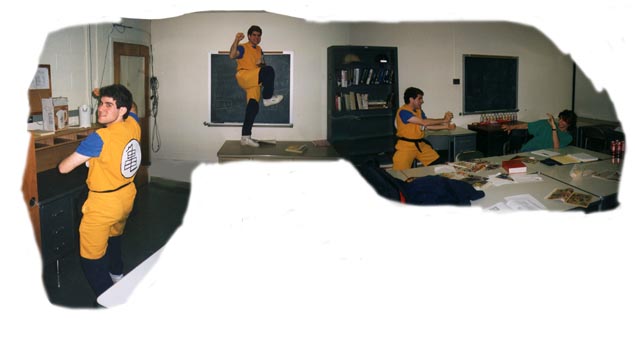 ---
As for CJAS, the lost pictures are on my picture album page.

---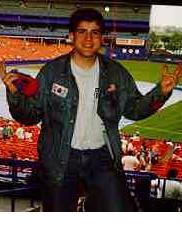 And I want to one day make this picture so you can splash cold water on it and watch me transform like Ranma does. And then put on Hot water for me to transform back. But I have never bothered to learn how to use a cgi script of JAVA to do that. Reading PG Wodehouse is just too much fun. So just click on it and I'll change (well sort of).
---


Suggestions:
pbl1@cornell.edu